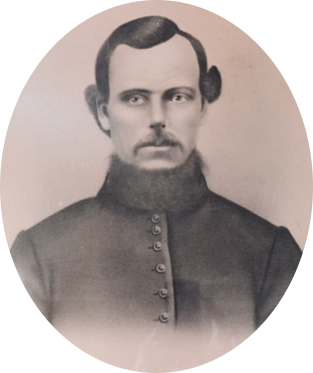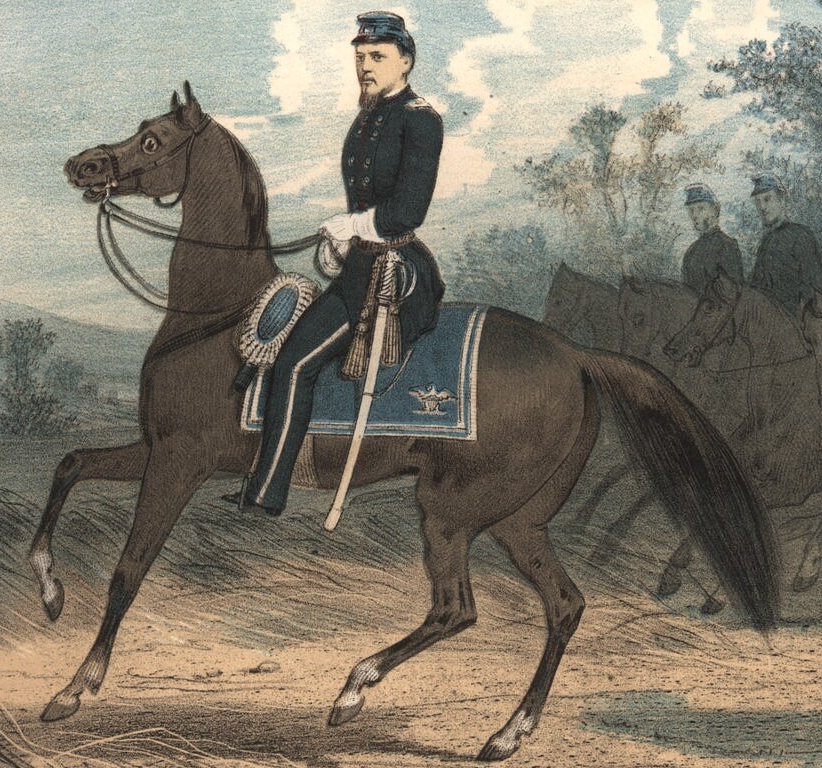 Private Nathan P Chastain, the great grandfather of Leta G. Hensley, joined the Union Army's 2nd Missouri Cavalry (Merrill's Horse) on 29 August 1862 in Eagleville, MO at the age of 32. This Missouri farmer would spend the next 11 months with Company B chasing down Confederate guerrillas across northeast Missouri.
The 2nd Missouri was organized by Captain Lewis Merrill at Benton Barracks, St. Louis, Mo from 3 September to 11 December 1861 under General Fremont's authority but was ordered to join the campaign at Springfield, Mo before the organization was complete. By the time Nathan joined the 2nd they were located in northern Missouri battling Porter's and Poindexter's guerrilla forces2.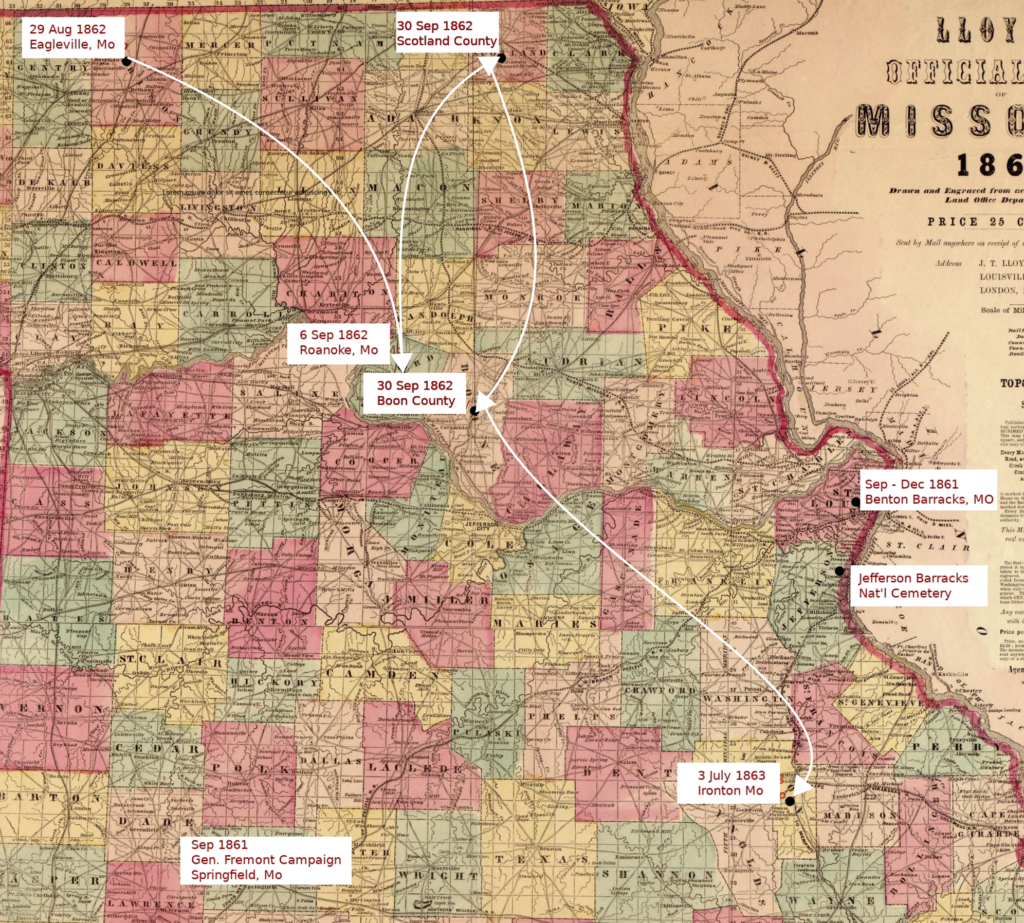 Captain Merrill demanded an unusual level professionalism from his volunteers comparable to that of the U.S. Regulars. To distinguish the troops in his regiment, Merrill mandated a unique uniform featuring a "horse-head" panel trimmed in cavalry yellow on the front of their tunics and a sky-blue forge cap with an orange welt and commanded: "all additions to or alterations of this uniform as prescribed are positively prohibited and will not be tolerated under any circumstances." His regiment established a reputation of "extreme aggressiveness and effectiveness in the counter-guerrilla mission3" In fact, evidence of the regiment's accomplishments were memorialized in a song published in 1863 by W. H. Harlow1. The first stanza is quoted below:
The Merrill Horse.
 by Polyhymnia
 
 The "Merrill Blue Caps" have been out in the field,
  And have chased the wild foe to his den;
 They have conquer'd Poindexter, caused Porter to yield,
 And peace reigns triumphant again
 Missouri, the star-link of States now is free  
 Wherever the "Blue Caps" have been:
 
 All glory and honor to Merrill shall be,
 He's the Champion and pride of his men.
 All glory and honor to Merrill shall be,
 He's the Champion and pride of his men. 
The regiment lost 3 Officers and 53 Enlisted men killed in combat and 1 Officer and 205 Enlisted men killed by disease during the war. As is often the case in conflicts before World War II, more men die from disease than by enemy action and so that is the fate of Pvt Nathan P. Chastain. He was hospitalized in the U.S. Army Hospital in Ironton, Mo. on 24 June 1863 and died of Diarrhea on 3 July 18634. His regiment went on to many other battles in Missouri and Arkansas after his short, 11 month tour came to a tragic end. Nathan is interred at Jefferson Barracks National Cemetery section 48 site 306 in Lemay, Missouri.
Visit
Nathan's
indivdual records
Sources and Notes:
Let us never forget.