William was born in Emmet, Nebraska on 26 October 1889 the son of Harm Henrich Martfeld, a German immigrant. William joined the Army to fight the Germans during World War I a mere 36 years after his father immigrated to the United States. William was proud of what he was doing as evidenced by a letter dated May 29th 1918 that he wrote home to his sister, brother and friend while he was in training at Camp Dodge, Iowa:
Dear Sister & Bro. & friends today finds me a full fledged American soldier. I am getting along fine. I just love it for there is no other way to whip Germany. We are the boys our names will go down in history for the glory we will achieve.
William left Camp Dodge August 12, 1918 with the 338th Field Artillery Regiment and boarded the Traz-os-Montes "an old German boat with a Portuguese crew" on or about 14 August in Hoboken, New Jersey. The old ship had some engine problems and spent 23 "painful" days in New York Harbor for repairs.
William finally arrived Tilbury Docks near London England on September 9th. On September 13, 1918 the 338th boarded a channel steamer in Southampton and crossed the English Channel to Cherbourg, France. After 4 days they were sent to Le Taillan, near Bordeaux in "Southern and SUNNY(?) France, where the advanced school detachment joined the command and most of the men received their first introduction to vin rouge and cognac". I certainly hope William was able to participate in some of this recreation! On the September 29th the regiment headed to Camp de Souge for training under French and American specialist instructors. "The news of the armistice reached us just two days after our final preparation for the BIG SHOW was completed". The Armistice was signed on November 11, 1918 but William had by then died of influenza on 14 October, just 8 days shy of his 29th birthday. William would have returned home on January 16, 1919 with little of the glory he bragged about in his letter home.1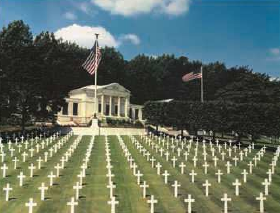 William may never have seen combat, but he made a heroic decision to join the Army and fight against the Germans where there was a real chance he could face members of his own family. He was proud to be "a full fledged American soldier"
William Henry Martfeld is buried in the Suresnes American Cemetery in Suresnes, France.
Visit
'William's
indivdual records
Hathi Trust Ditital Library, "Our Book of Memories 338th FA", "338th U.S. Field Artillery : our book of memories and record", Accessed May 24, 2019. https://babel.hathitrust.org/cgi/pt?id=wu.89059449801;view=1up;seq=12
Let us never forget.